KDT5
T5 Knock Down Fluorescent Strip Light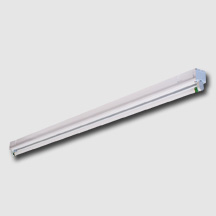 Downloads
Specification Sheet
Application
The knock down strip is an excellent choice for retail and residential applications. Perfect for shallow coves, showcases, displays and task lighting.
Features
Uses the latest technology for T5 ballasts and lamps. Uses efficient T5 lamps of HO lamps for up to 70% more light output.. Premium housing crimped along sides for extra rigidity and straight alignment. Features pressure lock lamp holders. Accepts optional plug-in wiring feature for continuous row installation. Alignment couplers furnished for continuous row installation. Can be surface or pendant mounted, individual or in rows. Numerous KO's for easy installation. Allows for 1, 2 and 3 lamp configurations. Range of lamp lengths for greatest design flexibility.
Construction
Fixture housing, lamp holder brackets, end sections and channel cover constructed of heavy gauge die-formed steel.
Finish
All reflective surfaces are finished with a high reflectance, lighting fixture white polyester powder.
Electrical System
ETL listed. Suitable for damp locations. Damp location emergency pack must be specified separately. Ballasts are solid-state electronic. Ballasts and lamp holders are replaceable without removing from ceiling. Discrete voltage must be specified for emergency pack options when wired with flex.