EB5T5
450-500 Lumen T5 Emergency Ballast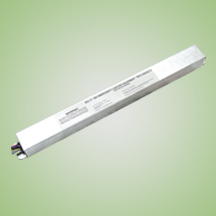 Downloads
Spec Sheet
Installation Instructions
Application
The EB5T5 fluorescent emergency ballast works in conjunction with the AC ballast to covert new or existing fluorescent fixtures into emergency lighting. When AC power fails, the EB5T5 immediately switches to the emergency mode, keeping one lamp illuminated at a reduced lumen output for a minimum of 90 minutes. When AC power is restored, the ballast automatically returns to the charging mode.
Features
The EB5T5 has been tested in accordance with the standards set forth in UL 924, "Emergency Lighting and Power Equipment," and is UL Listed for factory or field installation. Emergency illumination time exceeds the National Electrical Code (NEC), Life Safety Code (NFPA-LSC) and UL 90-minute requirements. It can be used with one 8W through 28W T5, one 17W-40W T8 through T12, one 13W-26W 4-pin compact or one 18W 4-pin long compact fluorescent lamp.
Electrical System
The EB5T5 uses a specially constructed, high-temperature nickel cadmium battery. It produces 450 to 500 lumens initial emergency light output. 120/277 VAC input. Single pole test switch. 24 hr recharge time. 0ºC to 55ºC ambient temperature rating.