CBB
Composite Burial Enclsoure with Low Voltage Transformer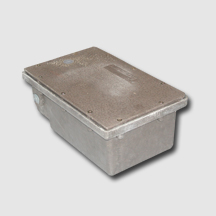 Downloads
Spec Sheet
Construction
Made from a compression molded, fiberglass reinforced polyester composite housing. It is resistant to rust, corrosion, oils, gasoline, and detergents. Provided with a 600W Low Voltage transformer that is fully encapsulated. Comes standard with junction compartment and anti-siphon barrier. Corrosion resistant stainless steel hardware. Dark Bronze finish is standard on the burial box. ETL rated for wet locations.
Electrical System
Housing is prewired with high temperature wire. Silicone filled, waterproof wire nuts and potting compound are provided for installation. 120V input / 12V output. Total wattage varies based on model type.
Mounting
Mount composite burial enclosure in excavated hole with allowance for a minumum of 3" backfill. Two 3/4" NPT and two 1/2" NPT conduit entries are provided. Flexible conduit (not provided) is recommended for connections to aid in fixture placement/adjustment. Housing cover is fully gasketed to provide a water tight seal.