E9B
Eclipse Series 9" Baffle Linear Fluorescent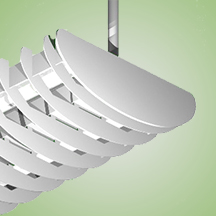 NOTE: The Eclipse Series of designer linear fluorescent fixtures are custom built to order. Extended lead times and minimum ordering quantities may apply. Please contact Customer Service for additional information.
Downloads
Specification Sheet
Application
This fixture is designed for suspension mounting for direct/indirect applications where aesthetics and performance are both needed.This fixture is ideal for offices, libraries, schools, etc.
Features
Designed to mount on exact 4 foot, 8 foot, and 12 foot centers. Joiners will accept stems, single cable, and power cords as supplied by Horizon. Louvers available in white or semi-spec aluminum. Louvers give a better than 45 degree cutoff to the lamp.
Construction
Heavy gauge roll formed steel housing with perforated pattern. Aluminum lateral baffles.
Finish
Post painted housing and components with a Lighting White Polyester type paint which has a UV stabilizer included with a 93% reflectivity. Raw steel goes through our custom wash system with a mild solvent and pre treatment "rust inhibitor" before passing through a preheat oven. After the paint is applied the fixture then passes through the cure oven for maximum adhesion. Each fixture is painted to a minimum of 2-3 mil thickness for extra durability.
Electrical System
120/277 volt, 50/60 Hz. 480/347 volt available upon request. Comes standard with instant start electronic ballast for T8 applications.